About Us...The Hartford Badges story...
Hartford Badges was a spin off of Hartford Engraving, the first computerized engraving house in the country. Hartford Engraving was one of the first to use ID card printers for name badge production. The division producing full color name badges and ID cards was later spun off as a separate company, becoming Hartford Badges.
Hartford Badges is a wholly owned division of Decision Support Dynamics, LLC. Managed and owned by the brother and sister team of Peter and Ann Kingsbury. We moved to our new office in May of 2000. We're located in Western New York State, about 20 miles south of Buffalo.


Ann Kingsbury
Bachelors Degree - Western Kentucky University
Associates Degree - Niagara County Community College
Both of us work all aspects of the business, however I spend most of my time working in billing, quality control and shipping.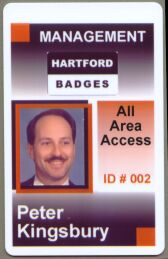 Peter Kingsbury
Bachelors Degree - Niagara University
Associates Degree - Erie Community College
I concentrate my efforts on design, customer service and administration. I'm also responsible for designing and maintaining this web site.

Company Policies & Notices
Design Copyright and Promotional Use
All of our designs, whether preliminary or final, are copyrighted by Hartford Badges. Using one of our designs or a substantially similar design for production at another manufacturer is in violation of copyright laws.
Unless notified in writing at the time your order is placed, Hartford Badges retains the copyright to all custom badge designs it creates. Hartford Badges also reserves the right to use items produced as customer samples, in point of sale displays, in advertising material and on our web site
Privacy
All information gathered on this site or in our other contact with you, will be used strictly for internal accounting and marketing purposes. We do not sell or share information with other companies
Sales Tax
Sales tax is charged on all shipments or pickups in New York State at the applicable rate for your county. Please send a tax exempt or reseller certificate prior to us completing your order if it applies.
Sales outside the United States
At this time we only sell to customers in the United States.
Credit Card Security
We will take your credit card information over the phone or via fax. Orders paid by credit card are shipped to verified addresses only.
Fake ID's
Bottom line, we won't do them, we never have and never will.

Our Production Process
| | |
| --- | --- |
| | Our production process uses Dye-Sublimation, printed into polished PVC for permanently vibrant colors and sharp detail |
| | This printing process can produce up to 16,000,000 colors on a name badge or photo ID card. The skyís the limit! |
| | A clear protective overlay provides UV protection and keeps the badge from fading |
| | Full color badges print at 300 DPI with a full bleed for photographic quality |
| | Our full color process is more versatile than engraving and unlike hot stamps our colors wonít rub or chip off |
| | The full color process gives much more artistic freedom than was ever available with traditional engraved badges |

Customer Comments
"Thanks again for everything Peter! As always itís a real pleasure working with you." Denise...Gloucester, MA via fax

Contact Information
Phone: 716-941-9525
Fax: 716-941-9526
Address: 7617 Center Road, West Falls, NY 14170
Email: Sales@HartfordBadges.com